Illumination Works is proud to announce the award of our Phase III Small Business Innovative Research (SBIR) Data Analytics as a Service (DAaaS) contract. Work performed on this Indefinite Delivery/Indefinite Quantity (IDIQ) vehicle will help accelerate the DoD's adoption of AI-enabled technologies to transform sustainment, acquisition, operations, and other core functions.
Illumination Works SBIR Innovations
Over the past four years, Illumination Works (ILW) has had significant success in demonstrating and delivering innovation across the Air Force, Army, and Navy through a total of 12 Phase I/II SBIR awards. This DAaaS Phase III SBIR positions ILW to continue providing data innovation excellence and end-to-end data capabilities to the DoD through direct-award task orders for the next five years with a total contract award of up to $50M.
Through research and prototype efforts, ILW has developed novel processes, tools, and execution capabilities to synchronize and synthesize data patterns, exploit data, and apply artificial intelligence (AI) capabilities to enable user-centric war-winning decision automation and transformational insights across the DoD mission and operations space. The DAaaS framework is the collection of these technologies and extends and expands the prior work conducted by ILW.
DoD Data Strategy Mandate for AI-Readiness and AI-Competitiveness
The DoD Data Strategy mandates all DoD component services be AI ready by 2025 and AI competitive by 2027. To meet these goals, the Department of Air Force (DAF) must transform the way they collect, process, and exploit data. Multiple efforts across the DoD are providing and promoting access to digital data assets and include varying degrees of human-centered decision support analysis tools.
"We are excited that our teams' core data expertise has evolved into innovative data and AI-centered capabilities that are recognized as essential to the DoD and DAF mission. We look forward to continued partnership with mission-focused clients that embrace the role that data and AI will play in shaping how we analyze, plan, and execute our military's current and future operations."
The DoD and component services must optimize and balance the ingestion and integration of multiple data types that support all aspects of the DoD operational, command and control, security, and business domains. Developing operational AI capabilities involves research and deployment of transformational edge, restricted network, and cloud-based processing systems that can dynamically scale to meet demand. By leveraging advanced analytical methods, the DoD can realize increased scalability of data efforts, reliability of outcomes and insights, cost reductions, and dynamic decision advantages supporting the warfighter.
"We are thrilled to achieve a Phase III vehicle where DoD organizations can gain easy access to ILW's end-to-end data innovations to ease user workload and increase speed to insights while supporting the overall DoD Data Strategy, mission, and warfighter."
Data Analytics as a Service
DAaaS meets the DoD Data Strategy needs by providing a standard, enterprise-ready framework to exploit a wide range of cross-functional and multi-type (structured, unstructured, image, video, sensor) data to support and expediate decision making within a DoD Enterprise Cloud environment. DAaaS directly supports the DoD data principles of visible, accessible, understandable, linked, trustworthy, interoperative, and secure data and helps organize and streamline AI readiness and exploitation.
DAaaS technical capabilities address the volume, speed, and unique security needs from the influx of data processed by the DAF and DoD from multiple sources including business systems, cyber, mission operations, planning, financial, personnel, logistics, weapon systems, operational technology, and others. This analytic framework ensures DAF is AI-ready and competent to outpace global adversaries.
The DAaaS framework is built upon three ILW SBIR technologies developed for the DAF and Department of the Navy (DON) providing the foundation for end-to-end services:
Ingestion Framework – Automated, metadata-driven DataOps framework provides modern, fast, and flexible data ingestion, curation, integration, analytics, and visualization
Automated Data Cleansing – Machine learning to automate data preparation and self-healing data to rapidly improve the ability to gain insights
Edge Analytics – Machine learning and metadata-driven architecture to down-select and optimize trusted transmission of operational technology data from deployed locations (edge) to headquarters (central)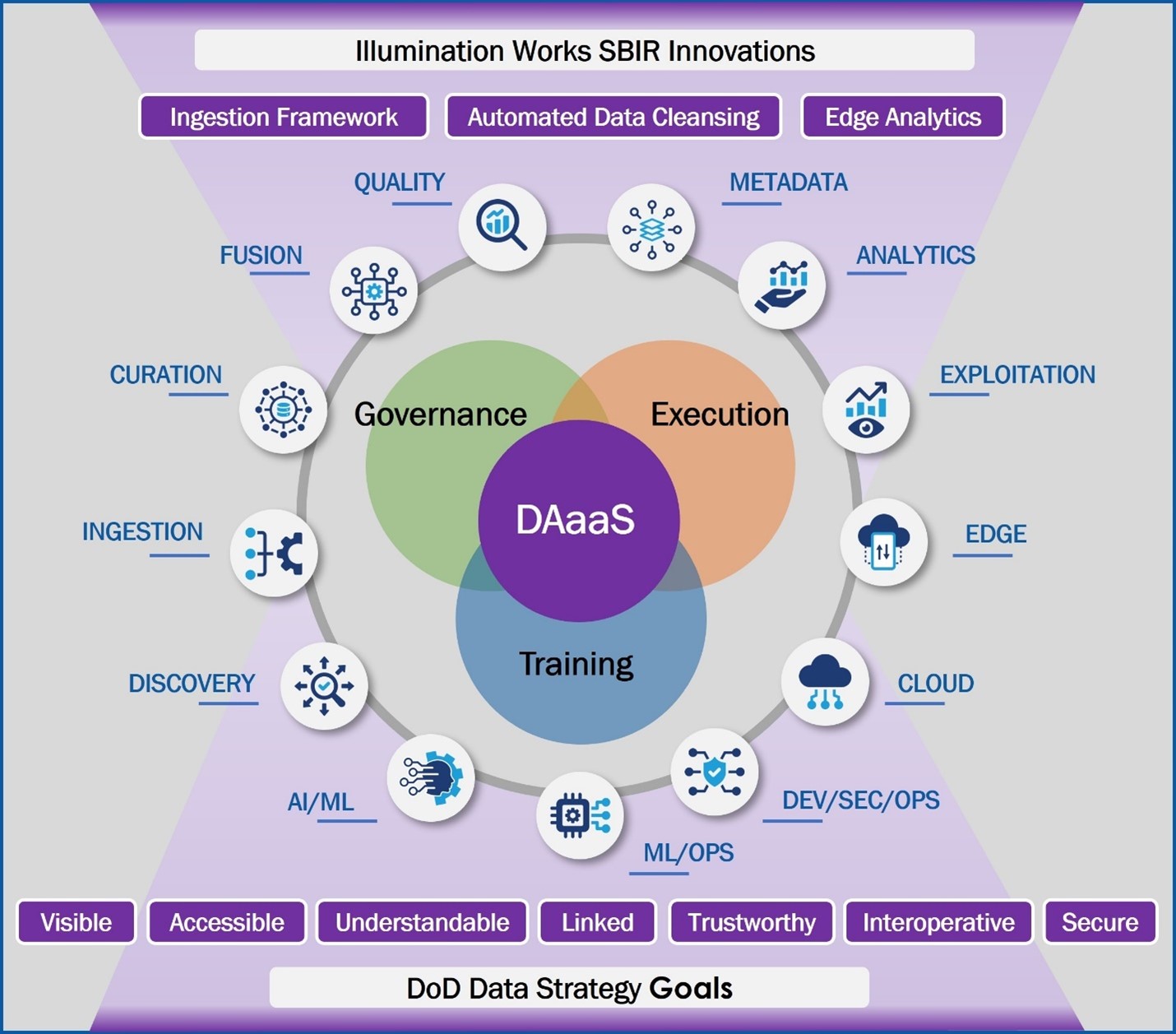 The DoD will leverage the DAaaS framework throughout this Phase III SBIR contract to address ongoing and expanding challenges with the way the DoD:
Collects, processes, and exploits data
Establishes the DAaaS framework, policy, and governance
Provides execution and support for DAaaS usage
Delivers education and training services
Tasks include activities such as discovery, collection/ingestion, curation, fusion, quality, analytics, and exploitation using AI/ML to speed decision making and enable mission readiness and air, land, and sea superiority. Specifically, DoD and component services can leverage and extend the work already conducted by ILW to provide a broader range of services and technical capabilities required to leverage data as an asset and expedite decision making. The government is the IDIQ owner and GSA ultimately makes the decision as to whom can obtain support under the IDIQ.
Task Order 1 – Air Force Materiel Command, Air Force Sustainment Center
The Air Force Sustainment Center (AFSC), one of six Centers within the Air Force Materiel Command (AFMC), will be the initial adopter of the DAaaS Framework with a five-year Task Order for $6.7M. AFSC will leverage the DAaaS Framework to accelerate Information Technology and Operational Technology data-driven decisions to support Industry 4.0, Digital Depot, and other Digital Transformation Initiatives. AFMC provides war-winning acquisition and sustainment of DAF weapon systems, munitions, and information technology capabilities. Within AFMC, AFSC provides supply and weapon system sustainment services to ensure weapon system and platform availability meet warfighter requirements.
For this task order, ILW will work with AFSC stakeholders to leverage the DAaaS framework, such as:
Formalize adoption of DAF Big Data Platforms, establish data governance practices for AFSC users, and provide standards and best practices around data use and exploitation as well as integration with DoD, DAF, and other data environments
Integrate with key tenants of the DAF Data Fabric and ensure users are educated, trained, and supported
Utilize core technologies developed as foundational to DAaaS and drive requirements to extend, expand or evolve these technologies as the mission needs dictate
The AFSC digital transformation initiative involves critical dependencies on all aspects of data management, data use, data integration, data curation, data fusion, and AI/ML analytics.
DAaaS IDIQ for Future Task Orders
About Illumination Works
Illumination Works is a trusted technology partner in user-centric digital transformation, delivering impactful business results to clients through a wide range of services including big data information frameworks, data science, data visualization, and application/cloud development, all while focusing the approach on the end-user perspective. Established in 2006, ILW has primary offices in Dayton and Cincinnati, Ohio, as well as physical operations in Utah and the National Capital Region. In 2020, Illumination Works adopted a hybrid work model and currently has employees in 14 states and is actively recruiting.