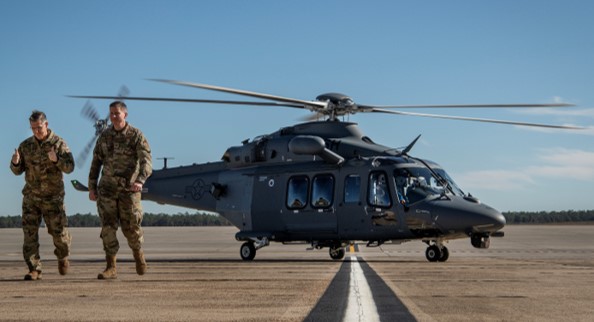 Pre-Flight Inspection AR Application
Pre-flight helicopter inspections can benefit from modern AR and IoT technologies. In this simulation, the pilot points the iPad at the helicopter and the app shows the steps for performance and capturing inspection data.
Leveraging a physical CAD model of a Blackhawk helicopter, ILW developed an AR checklist to be used by a pilot to perform pre-flight inspections. This tool provides instructions for performing the inspection and captures and stores the inspection data results in an IoT platform for further reporting and analytic insights. 
Demonstrates AR and different content types associated with how information can be presented to the pilot executing the pre-flight checklist
Integrates several visuals into the app such as photos and technical documentation
Sets foundation for developing more advanced visuals such as integrating AR and CAD manipulations
Provides ability to view previous backdated inspections
Reduces training time and cost by digitally capturing pre-flight inspection logs via AR and IoT technology
Helps new pilots know where to stand and what to look for, resulting in consistent and correct execution of the pre-flight inspection for pilot safety
PTC Vuforia Studio, Creo Illustrate, and ThingWorx
Adobe XD
iPad (used by pilot)
Related Case Studies You May Like
Interested In Working With Us?